How to Contact Us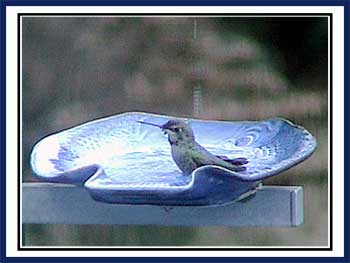 Anna's Hummingbird Bathing
There is a pleasure in the pathless woods,
There is a rapture on the lonely shore,
There is society, where none intrudes,
By the deep sea, and music in its roar:
I love not man the less, but Nature more.
Contacting Us
If you are interested in receiving an email when new videos or additions have been posted to our web site, please contact our Department. We do not share, trade or sell your email address.
If you are interested in purchasing a video clip, please contact our Department. We request a donation to cover costs of processing and mailing a DVD. A donation can be made using a credit card, PayPal or check.
We welcome your comments and suggestions. Please contact our Department.
If you have an image of an unusual backyard bird or critter that you would like posted, contact the Department. If you know the name of your backyard bird or critter, please include it along with your name, the date you took the photo and where it was taken. When the image is processed and online, we will notify you.
About Us
We have devoted our lives to creating backyard wildlife habitats since 1970. As life progressed, and the cold weather got harder to deal with, we moved from our wilderness home in western Montana. We travelled and visited numerous places and eventually moved to the small coastal town of Waldport, Oregon. Our goal is to document all birds and critters in our backyard. Hopefully, by seeing what is going on in our wildlife habitat, it will encourage you to create a certified wildlife habitat in your own backyard, school or community. The rewards are greater than anticipated.