Nest Materials
American Robin Collecting Nesting Material
There are many types of nesting materials you can make available for the wildlife in your backyard. Some of the extra materials you can provide are:
Cotton
Cotton is readily used by birds for their nests. Watch a video of an Anna's Hummingbird collecting cotton or an American Goldfinch collecting cotton.
Fur
We also place cat fur in suet baskets for the chickadees and other birds. Watch a video of a Chestnut-backed Chickadee collecting fur. There are pictures of their nests with cat fur below.
Moss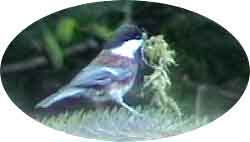 Chestnut-backed Chickadee with Moss
Chestnut-backed Chickadees use various mosses extensively for their nests. In our area, they use Isothecium stoloniferum, a thin moss, and Neckera douglasii, a fuzzy moss. The above-pictured chickadee is waiting for the perfect moment to take the moss into the nest box.
Straw
Straw is also used by birds and other critters for nesting material. Swallows enjoy having access to dry straw for their nests. Watch a video of a chipmunk gathering straw for her nest.
Feathers
Swallows enjoy gathering feathers for their nests. We throw feathers into the air and watch the swallows try to catch them as they fall to the ground. Once they have the feather, they fly to their nest and come back for more.
Cedar Bunk
Cedar bunk is a great medium to use in flicker nest boxes. We put a small handful at the bottom of the nest box. If you use too much bunk, the flickers remove it.
Wood Ashes
Some old timers said to use wood ashes to keep mites away so we put a handful of wood ashes in the bottom of the nest boxes. Chickadees, however, don't like anything in their nests and remove the wood ashes mouthful by mouthful.
Cedar Chips
We put a handful of cedar chips in the bottom of nest boxes to keep bugs and mites away. Some birds accept it, like swallows, but the chickadees prefer an empty nest. They remove the chips mouthful by mouthful until the nest box is empty.