Peanut Butter Cakes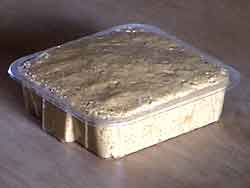 Peanut Butter Cake
1 (36-oz.) jar Adams Crunchy Peanut Butter*
1/4 cup maple syrup
2 cups corn meal (medium grind)
1 cup sunflower chips
1/4 cup chopped dried fruit (optional)
Using a mixer, thoroughly blend the peanut butter and maple syrup. Add the corn meal and blend well. Adjust the amount of corn meal so you can knead in the sunflower chips without the mixture sticking to your hands. The mixture should be shiny and tacky and resemble bread dough.
Divide mixture evenly into three portions. Press mixture firmly into three (3) plastic 4-¼" x 4-¼" x 1-¼" containers or press the mixture onto a screened peanut butter log.
Storage: Cover containers with foil and freeze until ready for use. You can also make peanut butter balls by rolling teaspoons of the mixture into balls and freeze them. They make great treats for your special birds.
*Note: Do NOT use peanut butter that contains "partially hydrogenated oil." To read more on why you should not use it, read Boycott Hydrogenation!
Watch a video of a Northern Flicker feeding peanut butter to a baby on our screened peanut butter log.