Chestnut-backed Chickadee
Chestnut-backed Chickadee Video Clips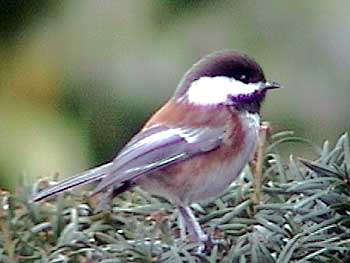 Chestnut-backed Chickadee
Chestnut-backed Chickadees were originally only in the Pacific Northwest. For unknown reasons, they are continuing to expand their territory eastward. Because they do not migrate, we have them in our area all year.
Chestnut-backed Chickadee Sound Clip
To listen to a sound file and view a waveform and spectrogram image click here.
Chestnut-backed Chickadee Nests
Their nests are quite beautiful and look like very comfortable futons with their moss-lined bottoms and topping of fur. In the section on Habitat, you will find pictures of their nests. At our location, they always raise two broods in a nesting season.
Chestnut-backed Chickadee Eggs
They lay about 10 eggs in their nests. As you will see in the Habitat Section, these tiny eggs fit into 1/8 teaspoon.