Rufous Hummingbird
Rufous Hummingbird Video Clips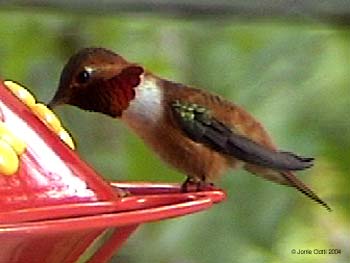 Rufous Hummingbird (Male)
Male Rufous Hummingbirds leave their wintering grounds in Central Mexico to arrive at our location in Waldport, Oregon, in February and March. During spring migration, they follow the Pacific coast. Some of these migrants will continue to head north so they can breed in Alaska. Females and last year's juveniles arrive several weeks later. During the height of spring migration, there are dozens of hummers in a feeding frenzy at the hummingbird feeders.
On these long journeys, they rely on small insects such as aphids and midges as their food source along with flower nectar from early-blooming natives such as red-flowering currants (Ribes sanguineum), Salmonberry (Rubus spectabilis), and other native plants. Using native plants are best for creating a perfect backyard wildlife habitat.
Green-backed Rufous Hummingbird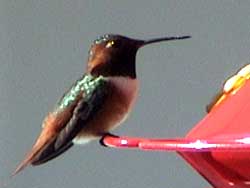 Green-backed Rufous Hummingbird
We saw this green-backed Rufous Hummingbird on March 12, 2006. Because our area is out of the Allen's Hummingbird home range, we must assume that it is a green-backed Rufous Hummingbird. The big difference between these two hummingbirds is the distinct notched tail of feather #2 in the male Rufous Hummingbird. (Note: The two center tail feathers are #1.) However, for a positive identification, a hummingbird expert needs to closely scrutinize and examine the bird.
Rufous Hummer & Bee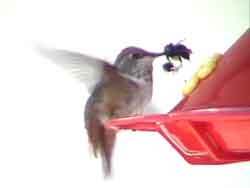 Rufous Hummingbird with Bee Pierced through Beak
In July of 2005, we saw an amazing event. We weren't sure the hummingbird was going to make it. After this near-death struggle, we are hopeful that the hummer was successful in removing the bee. See more images and read more about the Rufous Hummingbird with Bee Pierced through Beak.
How to Attract More Hummingbirds
Attract more hummingbirds to your backyard wildlife habit by planting more hummingbird plants and provide them with home-made nectar. The secret to increasing your hummingbird population is making sure you keep the feeders clean and filled.
Despite their small size, hummingbirds are hardy. They can survive sub-freezing temperatures, and even blizzards, by going into torpor-a sleeplike state that saves energy. When not in torpor, however, hummingbirds use energy quickly. Its heart beat is more than 10 times per second. By providing food, you may help a hummingbird survive at a time of year when insects and nectar are difficult to find.